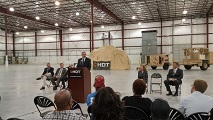 HDT, a current tenant at the SouthPoint Park in Alabama, has signed a lease for the 206,500 SF facility at 5951 Endeavor Way. HDT Expeditionary Systems will create more than 120 jobs when it transfers manufacturing operations from Buena Vista, Va., to the facility in Huntsville-annexed Limestone County. HDT, which recently welcomed Sean Bond as its new CEO and President, acquired the business and assets of DHS Technologies last year. Bond said the new Huntsville facility will increase production capacity, cut overhead costs and streamline related production processes into one geographic area.
"The decision to move our shelter manufacturing facility was thoughtfully made," Bond said. "Ultimately, this transition is best for the benefit of the warfighter and the benefit of our organization. The impact will be increased competitiveness and value in our operations, and the opportunity for HDT to grow in a highly competitive global market. We expect HDT Huntsville to become the premier military production facility across all of Northern Alabama."
Alabama Department of Commerce Secretary Greg Canfield said the state has offered AIDT recruitment and training valued at $1,042,350 and a Jobs Credit at 3 percent on the new employment payroll at a value of $1,557,130 over 10 years. HDT also will receive an estimated abatement of $30,000 for state, county and city sales and use tax to equip the project, as well as an abatement of $179,000 over 10 years for state, county and city property taxes.
The SouthPoint Business Park, Alabama has one existing building available of 108,960 SF. Eight pad ready sites are available for Build to Suit facilities ranging 87,360 FT to 530,160 SF. Construction time for these Build to Suit facilities are as quick as 150 days.