FOR IMMEDIATE RELEASE
MEDIA CONTACT:
Chip Reed
chip@jaeasttennessee.org
865-457-2461
Business leader wins Junior Achievement's top volunteer leadership award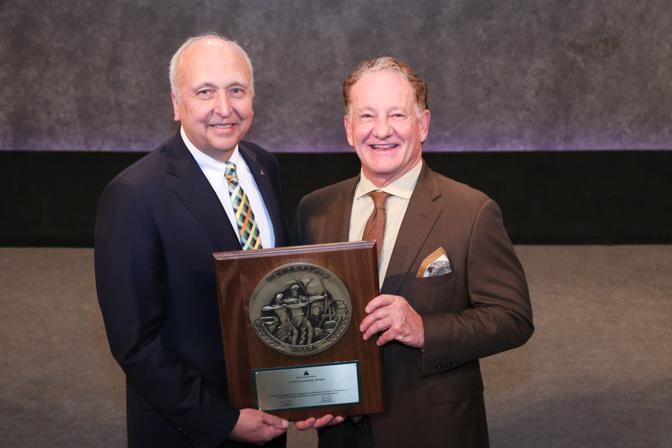 (Joe Hollingsworth, right, is shown receiving the Gold Leadership Award from Jack Kosakowski, President & CEO of Junior Achievement USA in New York City last week)
New York, NY — Junior Achievement USA® (JA USA) presented their Gold Leadership Award at the National Volunteer Summit in the recipients' honor at The Paley Center in New York City. From East Tennessee Junior Achievement, Joseph A. Hollingsworth Jr. has been chosen from more than 237,000 U.S. volunteers as one of the 11 recipients of the organization's most prestigious national award for volunteerism.
Junior Achievement's Gold Leadership Award honors volunteer excellence, presented in recognition of leadership in supporting and expanding JA's student impact, resources, operational excellence and sustainability. The Gold Leadership Awards honor the recipients' JA volunteer service during the 2015-16 school year. Junior Achievement's Volunteer Summit will convene local JA leaders and chairpersons with the JA USA board of directors and national staff.
"Our local business community's support of JA is critical to achieving our mission, to inspire and prepare young people to succeed in the global economy," said Chip Reed, President of Junior Achievement of East Tennessee. "Joe Hollingsworth, Owner and CEO of the Hollingsworth Companies, is a remarkable example of that spirit of dedication and service to others. I believe that Joe has found JA to be the perfect outlet for giving back because finding the next generation of risk takers, matters to Joe and teaching a new generation of young people to stand on their own two feet, matters to Joe."
Mr. Hollingsworth has been instrumental in JA's ability to reach thousands of students over the years. He has mentored the staff, recruited volunteers and funding from other organizations, and has led the campaign to build and run the organization's JA BizTown facility located in Clinton, TN. Hollingsworth is a member of JA's East Tennessee Business Hall of Fame and a Legacy Level member of JA's Free Enterprise Giving Society, the top level of recognition for financial contributions given by Junior Achievement.
A complete list of National Gold Leadership Awards Winners:
Craig Boyan, President & COO, H.E. Butt Grocery Company, San Antonio, TX
Gregory L. Ebel, President & CEO, Spectra Energy Corp., Houston, TX
Steve R. Gray, Vice President, KeyBank, Portland, OR
Joseph A. Hollingsworth, Jr., Owner & CEO, The Hollingsworth Companies, Clinton, TN
John Koons, Community Relations Coordinator, OG&E (Oklahoma Gas and Electric), OK
David Locke, Chairman & CEO, McFarland State Bank, Wisconsin
Kevin D. Mather, President & COO, Seattle Mariners, Seattle, WA
David Pankau, President & CEO, BlueCross BlueShield of South Carolina, Columbia, SC
Sandy Rothe, Partner, Deloitte, Denver, CO
Dino E. Rubusto, Co-President, CHUBB Corporation, New Jersey
Anthony Viscogliosi, Founder and Principal, Viscogliosi Brothers, LLC, New York, NY
About Junior Achievement of East Tennessee:
Founded nationally in 1919 and locally in 1969, Junior Achievement's mission is to inspire and prepare young people to succeed in a global economy. Junior Achievement uses hands-on experiences to help youth understand the economics of life. In partnership with business and educators, Junior Achievement brings the real world to students, opening their minds to their potential. JA programs deal with real issues like workforce readiness, financial literacy, and entrepreneurship so that young people not only understand their opportunities in life but can also take advantage of those opportunities.
JA develops young people with volunteer driven K-12 classroom based programs, collaborative after school initiatives, job shadowing opportunities and an experiential learning curriculum and facility called JA BizTown.
For more information on JA Programs in East Tennessee, please visit www.jaeasttennessee.org or call (865)457-2461.
About Junior Achievement USA® (JA)
Junior Achievement is the world's largest organization dedicated to giving young people the knowledge and skills they need to own their economic success, plan for their future, and make smart academic and economic choices. JA programs are delivered by corporate and community volunteers, and provide relevant, hands-on experiences that give students from kindergarten through high school knowledge. Today, JA reaches 4.8 million students per year in more than 100 markets across the United States, with an additional 5.6 million students served by operations over 100 other countries worldwide. Visit www.ja.org for more information.