Scapa Healthcare, the Development Corporation of Knox County, and The Hollingsworth Companies worked diligently over an eight week period to develop the plan for a new medical device facility in Knoxville, TN. The project included an economic development incentive package from the State of Tennessee and Knox County, the purchase of land, the detailed building design, and all accompanying legal documents. While the schedule was very fast paced, Tom Mann did an unbelievable job and cracked the whip to keep all parties on track. This is quite an achievement considering the team had to work around three major holidays to meet the project timeline.
While an official ground breaking took place on March 22nd, construction has been underway since the first of February. Site work, building construction, and all upfits must be completed by October 31st to meet SCAPA's rapid growth plans. The upfits for this project include 18,000 SF of office space, a 13,100 SF clean room, 36,600 SF of production space, with the remaining SF planned for warehouse operations. This building was designed with future SCAPA growth in mind and will expand to a total of 250,000 SF.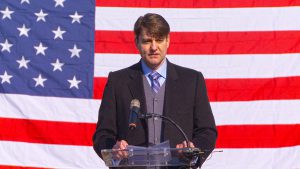 After the first day of site work, the Hollingsworth construction team saw 18 days of rain, with total rainfall twice the normal average. While rain might be beneficial for spring flowers, it created a tremendous challenge for The Hollingsworth Companies' construction team. The construction team should be commended for their efforts to meet our commitment to SCAPA. They have since moved 20,000 yards of dirt, poured footings on pilings, and went on a 7-day work week to pull back the schedule. SCAPA HealthCare is a market leader in products for Advanced Wound Care, Consumer Wellness Products, and Medical Device Fixation. While they have a broad range of products, one of their most recognized contract products is the Breathe Right Nasal Strips. SCAPA's products, both sterilized and non-sterilized, are shipped around the world and are recognized in the healthcare market as the gold standard in advanced wound care.
The Knoxville facility for Scapa Healthcare is recognized as a Center of Excellence with dedicated resources and processes combined with state-of-the-art manufacturing capabilities to help customers bring products to market faster. Each Center hosts R&D labs, specialized program managers and engineers to take new programs from development to manufacturing in an efficient, controlled and expedited manner. This new, larger facility will allow  SCAPA to further expand its manufacturing and R&D capabilities.
The Hollingsworth Companies is well known for its predesigned build-to-suit facilities and quick-ship prototype building developed with A&S Building Systems. The combination of these capabilities provides for the building structure to be delivered to the site ready to begin erection in just six weeks from the receipt of a building permit. In 35 years of industrial development experience, we have never delivered a facility late.