8025 Quality Drive Sells for $4.25 Million
July 24, 2018
Richmond, Va. – July 24, 2018 – CBRE|Richmond is pleased to announce the sale of 8025 Quality Drive located in Prince George, VA for $4.25 million. The site was sold to Summit Investments Southeast, an entity of Hollingsworth Development who developed the South Point Business Park where the property is located.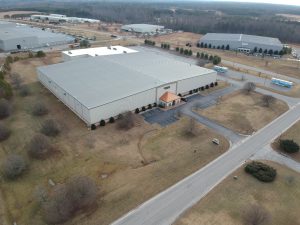 The site is an industrial building comprised of 143,638 square feet industrial space with an office component of 7,400 square feet. Originally built in 2002 with additions added in 2005, the warehouse is situated in a prime location close to I-295 with quick access to I-95 and the Port of Virginia. After constructing the building, the buyer, Hollingsworth Development, later saw it as an attractive investment opportunity within a tight industrial market that currently has a vacancy rate below 4%. The Hollingsworth Company is now offering the building for a long term lease.
The property had been on the market for about 3.5 years prior to CBRE|Richmond's involvement. Once involved, the site closed within six months with a back-up offer in place.
Matt Anderson and Wood Thornton of CBRE|Richmond represented the seller, Loan Oak – Richmond, LLC, in this transaction.
About CBRE – Richmond
CBRE|Richmond is a CBRE, Inc. affiliate office serving the Central Virginia region.  The firm assists real estate owners, investors and occupiers by offering strategic advice and execution for property leasing and sales; property, facilities and project management; corporate services; debt and equity financing; investment management; valuation and appraisal; research and investment strategy; and consulting.  In 2016, CBRE|Richmond completed 448 lease transactions encompassing 3.9 million square feet and totaling $240 million in value.  The Richmond office also completed 90 sales transactions in 2016 with a total value of $459 million.  For more information about the Richmond office, visit our website, www.cbre.us/richmond.
 About CBRE in the Mid-South Region
CBRE is the only global real estate services firm with offices in Norfolk, Newport News, Richmond, Charlottesville, and Fredericksburg, VA, and Raleigh and Greensboro, NC.  These offices are collectively referred to as the Mid-South region.  The CBRE Mid-South offices (excluding Northern Virginia and Charlotte, NC offices) completed $3.2 billion of sales and leasing transactions in 2016.
About CBRE Group, Inc.
CBRE Group, Inc. (NYSE:CBG), a Fortune 500 and S&P 500 company headquartered in Los Angeles, is the world's largest commercial real estate services and investment firm (based on 2016 revenue).The company has more than 75,000 employees (excluding affiliates), and serves real estate investors and occupiers through approximately 450 offices (excluding affiliates) worldwide. CBRE offers a broad range of integrated services, including facilities, transaction and project management; property management; investment management; appraisal and valuation; property leasing; strategic consulting; property sales; mortgage services and development services.  Please visit our website at www.cbre.us.
About The Hollingsworth Companies
The Hollingsworth Companies are the largest non-urban Industrial Real Estate developer and construction firm in the southeastern United States with 125 tenants, eighteen million square feet of industrial space, spread over 17 states.  Facilities are strategically located in the Southern Automotive corridor of Alabama, Georgia, Kentucky, Mississippi, North Carolina, South Carolina, Tennessee, and Virginia.  For more information about The Hollingsworth Companies, contact, Tom Mann, Senior Vice President of Industrial Real Estate, at 865.457.3701.
For further information:
Joe Marchetti                                             Ashly Paraham
Managing Director                                    Graphic Designer/Marketing Assistant/Public Relations
CBRE|Richmond                                       CBRE|Richmond
804.320.5500                                                804.968.1975
joe.marchetti@cbre-richmond.com              ashly.paraham@cbre-richmond.com
###