Redline Steel, one of the fastest growing companies in the nation, moves into 108,960 SF facility in SouthPoint, Alabama.  SouthPoint Business Park in Alabama continues to attract quality companies with the third new tenant in less than a year. The latest addition is Redline Steel, a Home Décor start up based in North Alabama that has been setting record numbers for growth.
The core management team is comprised of four very bright, tech savvy, millennials that truly understand the meaning of hard work and perseverance. Redline was started by Colin Wayne, an ex-Army combat veteran who was injured by an enemy rocket attack in Afghanistan. In 2012, while working as a Department of Defense contractor in Afghanistan, Colin was wounded by an enemy rocket that sent shrapnel into his leg, stomach, and arms.
Colin did physical therapy for six months as he transitioned out of the military. While transitioning out of the military in 2013, he did his first modeling job; and, within 30 days of taking photos, he had about 100,000 followers on social media. Modeling and a growing digital following led Erwin to contract with several supplement companies as a "social media influencer", and Erwin quickly realized the marketing potential that this provided.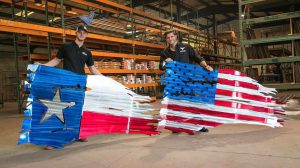 Colin planned to use this "influence" to start up his own company. His research led him to the Home Décor industry and resulted in Redline Steel. In less than two years, Redline Steel has become a double digit million dollar company with their growth limited by their ability to increase their manufacturing capacity. Starting in 10,000 square feet of space, in just two short years, they have transitioned into 108,960 square feet at SouthPoint, Alabama. They have plans to fill this building within a few years and will have the ability to expand this facility to 195,000 square feet as their business continues to grow.
Please take the time to review Redlines Steel's product line and pass along their website to your friends and family.  We congratulate Redline on their current success and wish them continued growth in this and the future markets that they plan to expand into over the next year. www.redlinesteel.com
The SouthPoint Industrial Park, Alabama is located adjacent to both the I-65 and 1-565. This location provides excellent access to markets from Nashville TN and Louisville KY to the north and Birmingham and Montgomery AL to the south. This corridor is highly favored by companies that serve the Southern Automotive market.