Whether you are a manufacturer or distribution company, it is likely that filling skilled labor positions in this difficult market is your number one concern. We hear on a daily basis that revenue growth is now being impacted by this tight labor market.
At The Hollingworth Companies, one of the key selection criteria for our business parks, quality renovated buildings and build-to-suits are the availability of a stable work force. By locating our facilities in semi-urban locations, labor rates are very competitive; and. the work force is very stable. Workers in these locations are multi-generational, tend to be very loyal to employers, and will not tend to job shop for a pay increase.    
Establishing your facility in these locations will provide you with highly productive employees that take pride in their community and make a long term commitment to their employer. A case in point is the recent addition of Unified Brands to The Hollingsworth Companies facility in Ceres Industrial Park, Vicksburg, MS is a clean, safe, and beautiful community, where people are genuinely friendly and welcoming. It has long been known as the "Red Carpet City of the South."
"Mississippians are hard workers who take pride in a job well done," said Mississippi Governor Phil Bryant, "as evidenced by Unified Brands' decision to grow its operations in our state and create hundreds of new jobs in Warren County. Vicksburg has enjoyed recent economic growth, and this exciting announcement continues that momentum."
"The new facility in Vicksburg will put us in a great position to improve the work environment for our employees, increase operational efficiencies, and provide a foundation for long-term growth," said Dave Herring, President of Unified Brands. "It also centralizes our production, engineering, office, and support staff to three centers of excellence, allowing us to better serve our customers, while growing our overall capacity to meet industry needs."
Whether you are relocating your facility for expansion or to be closer to your customer, consider a Hollingsworth facility in a semi-urban location that  is well-positioned to provide a stable, highly productive workforce. We provide well located facilities across the Southeastern manufacturing corridors.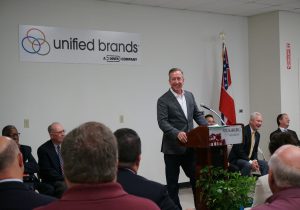 Dave Herring, President of Unified Brands