On June 3rd, SCAPA Healthcare officially marked the opening of their newly constructed, medical device manufacturing and development facility developed by The Hollingsworth Companies in Knox County, TN. The project included an economic development incentive package from the State of Tennessee and Knox County, and the purchase of land from the Development Corporation of Knox County.
Construction for the facility began in February 2018. The 152,480 SF building included upfits of 18,000 SF of office space, a 13,100 SF clean room, 36,600 SF of production space, with the remaining SF planned for warehouse operations. The building was designed with future SCAPA growth in mind and can expand to a total of 250,000 SF.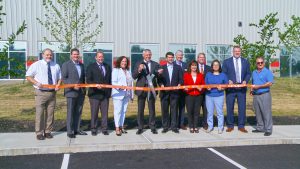 The construction process faced two major challenges. 2018 was the 8th wettest year in Knox history with 18 straight days of rain during the first three weeks of construction. A 7-day work week and a double shift were added to pull the project back on schedule and meet an on-time delivery. The construction team should be commended for their efforts to meet the schedule commitment to SCAPA.
The second major challenge was the initiation of Project Remedy. After the building design was complete and construction began, SCAPA received a contract from a new customer that needed to be integrated into the facility. It required a great deal of flexibility by the SCAPA Project Management team and the Hollingsworth design and construction teams to implement a 18,000 SF production room into the partially-completed facility and bring the project in on schedule.
SCAPA HealthCare is a market leader in products for Advanced Wound Care, Consumer Wellness Products, and Medical Device Fixation. While they have a broad range of products, one of their most recognized contract products is the Breathe Right Nasal Strips. This new, larger facility will allow SCAPA to further expand its manufacturing and R&D capabilities.
The Hollingsworth Companies is well known for its predesigned build-to-suit facilities and quick-ship prototype building developed with A&S Building Systems. The combination of these capabilities provides for the building structure to be delivered to the site ready to begin erection in just six weeks from the receipt of a signed lease.