Prince George County,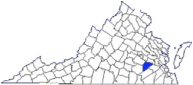 Virginia
SOUTHPOINT Business Park – Prince George County, Virginia, founded by The Hollingsworth Companiesin 1997, has been the recipient of the National Associations of Counties award for the "Best Semi-Rural Economic Development Public-Private Partnership in the Nation.The Hollingsworth Companieshas already delivered nine buildings to various clients and we see no sign of this pace slowing down. Phase I lots vary in size (up to 75 acres) and Phase II includes an additional 200+ acres for building projects.SOUTHPOINT Virginia, situated in Prince George County has already developed over 1,000,000 square feet of Class A industrial space. Five buildings have become FINISH-TO-SUIT projects and the remaining four were BUILD-TO-SUIT projects ranging in size from 52,000 square feet to 109,000 square feet. This park includes a FUND-TO-SUIT project with 155,000 square feet requiring over $20M in start-up funding.
The Hollingsworth Companies welcomes FINISH-TO-SUIT, BUILD-TO-SUIT, and FUND-TO-SUIT projects ranging in size from 50,000 to 500,000 square feet. The only thing you need to remember is: Hollingsworth makes it happen!
Location Features
Super I-95, I-85 and I-295 access and 24-miles to I-64
Within 750 Miles of Over 50% of the Nation's Population
Prime VA Location with East-West and North-South Shipping
Right-To-Work State
Competitive Pricing
Stable Coop Power Rates and Productive Workforce
60+ Motor Freight Lines Serve Richmond MSA
No State Sales Tax on Raw Materials and Purchases Related to Machinery, Tools, Spare Parts, and Industrial Fuels
Superior Quality of Life
Richmond MSA and Regional Air Service Less than 30 Minutes Away
60 miles from Port of Hampton Roads VA
Helpful Links